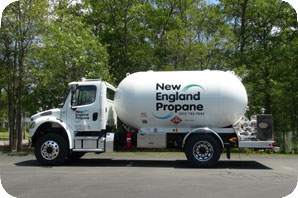 Providing excellent service has been our company's mission from the very start, and it has been the key to our growth and success. We try hard every day to exceed our clients' expectations and provide personal service of the highest caliber in everything we do.
We also want to be your "go-to" propane company that can answer all your propane questions and solve any propane-related problem.
Our Mission Statement
New England Propane's mission is to offer exceptional service at a fair price; a knowledgeable, friendly, honest staff; heightened customer safety; and on-time service and deliveries. Our goal is, and continues to be, to provide excellent service and product knowledge.
Become a customer to get true New England personal service
Our Service Area
We are proud to provide propane delivery and service to homes and businesses in southwestern Connecticut and southeastern New York including:
Connecticut
Bethel, CT
Danbury, CT
Darien, CT
East Norwalk, CT
Easton, CT
Fairfield, CT
Georgetown, CT
Green Farms, CT
Greenwich, CT
Monroe, CT
New Canaan, CT
New Fairfield, CT
New Milford, CT
Newtown, CT
North Stamford, CT
Norwalk, CT
Old Greenwich, CT
Redding Center, CT
Redding Ridge, CT
Redding, CT
Ridgefield, CT
Riverside, CT
Rowayton, CT
Roxbury, CT
Sandy Hook, CT
Sherman, CT
South Norwalk, CT
Southbury, CT
Southport, CT
Stamford, CT
Trumbull, CT
West Norwalk, CT
West Redding, CT
Weston, CT
Westport, CT
Wilton, CT
Woodbury, CT
New York
Ardsley, NY
Armonk, NY
Banksville, NY
Bedford Corners, NY
Bedford Hills, NY
Bedford, NY
Brewster, NY
Briarcliff Manor, NY
Briarcliff, NY
Bronxville, NY
Carmel, NY
Chappaqua, NY
Cortlandt Manor, NY
Cross River, NY
Croton, NY
Croton-on-Hudson, NY
Elmsford, NY
Golden's Bridge, NY
Greenburgh, NY
Harrison, NY
Hartsdale, NY
Holmes, NY
Irvington, NY
Katonah, NY
Larchmont, NY
Lewisboro, NY
Mahopac, NY
Mamaroneck Village, NY
Mamaroneck, NY
Millwood, NY
Montrose, NY
Mount Kisco, NY
New Rochelle, NY
North Castle, NY
North Salem, NY
North White Plains, NY
Ossining, NY
Patterson, NY
Pawling, NY
Pelham Manor, NY
Pleasantville, NY
Port Chester, NY
Pound Ridge, NY
Purchase, NY
Purdys, NY
Rye Brook, NY
Rye, NY
Scarsdale, NY
Somers, NY
South Salem, NY
Tarrytown, NY
Thornwood, NY
Valhalla, NY
Verplanck NY
Vista, NY
Waccabuc, NY
West Harrison, NY
White Plains, NY
Yonkers, NY
Yorktown Heights, NY
Learn more about our propane delivery and services
Our Name
New England Propane began in 1989 as Greenwich Propane - but our service area has grown so much that we had to change our name. As big as we may be, however, we've never lost sight of our small town values and respect for each and every customer.
A Brief History of New England Propane
In 1989 our company was formed by Roy J. Van Steinburgh and John J. Barry, III. They recognized that a void existed among the companies supplying propane gas in Fairfield and Westchester counties. Although there was an ample number of propane companies in operation, the majority seemed not to recognize that the goal of a service company is not just to provide fuel, but to service its customers.
Providing exceptional service has been the mission of our company from day one, and it has been the key to our growth and success. It is easy to say that one is providing service in our industry, and many propane companies feel that they are doing so simply by installing tanks and delivering fuel. It goes much further than this and truly takes the combined efforts of all members of our team to be able to provide exceptional service.
Any existing or potential customer should be able to sense this quality with the first phone call they make to us. There is not an automated switchboard to direct your call; rather, a courteous and knowledgeable member of our staff. Your subsequent contact with any member of our team-sales representative, service technician, delivery personnel, or customer service staff will reflect this same level of service and performance. At New England Propane, we strive to serve our customers in the manner we would like to be treated ourselves.
Our mission, our past, our future, and our reputation are built upon the principle that we will do everything possible to bring satisfaction to our customers.
Testimonials
We are grateful when our loyal customers compliment our staff on a job well done. Here are just a few testimonials we'd like to share with you. If you would like to tell us about a New England Propane team member who went out of his or her way to provide excellent service, please contact us.
Recent Testimonials
I highly recommend New England Propane for your propane needs, especially for the installation of new equipment.
The entire team was thorough, responsive, and courteous. They also did a great job addressing and resolving issues that came up during the installation process.
You will be in good hands if you go with New England Propane.
L.S. – Mamaroneck, NY
To whom it may concern,
As a very private person and semi retired builder designer with over forty years experience covering multiple cities and states, I would like to give an entirely unsolicited review regarding my long time relationship with New England Propane.
In an industry where energy prices have almost doubled in recent months I can assure you very few companies continue to be focused on customer care and service.
Where as people like Donna and Greg, to name just two of my friends at New England Propane, stand by their dedication in service to their clients. They have often gone above and beyond for me. There is no such thing as an unusual situation for them. They are responsive and professional wether you smell gas or have a question about billing. Service of any kind is invasive and distracting. N E P is modern in their approach to this and send a text with names and time of arrival of their highly skilled employees.
During these strange and uncertain times, I count my blessings with regard to New England Propane.
LT - New Canaan, CT
I wanted to write to express how pleased we are to have become new clients of New England Propane.

You have provided superior service and customer care throughout the process of setting up our accounts for our two properties. Every aspect of dealing with the company has been met with professional and prompt attention.

To our salesman - we so appreciate that you took charge of organizing the very complex process of replacing one of our tanks, keeping us informed each step of the way, and working with us throughout.

To the office - from helping us to set up our accounts to communicating real time regarding all appointments, we are grateful for your attention to us.

All the technicians who have come to work on the project have also been excellent to work with.

We are very very pleased with the service provided by everyone at New England Propane and look forward to being clients and continuing the relationship that has been established.

S.P. - Pound Ridge, NY
We really appreciate the great job your guys did installing our propane tank and lines for our new heating and cooling system. You coordinated the permitting and work flow beautifully. The job was done cleanly, efficiently and courteously.

We look forward to a continued relationship.

Thank You.

Steven A.I. - Stamford, CT
New England Propane has been terrific both servicing us with heating propane and providing propane for our Generac generator. The workeds have been efficient and timely. The desk staff always either providing answers or researching answers to our questions. Dave our salesman is just super. He is always so patient with changes we made in planning and explaining every option along the way. He has been available days, nights and weekends for inspections, following up on every aspect of the "journey" and offering suggestions and options throughout the process.

We think of him as a trusted friend. We highly recommend NE Propane for your propane needs.

S.L. - Newtown, CT
In this time of extra stress on a lot of people, between the coronavirus epidemic and the storm damage from last week's tropical storm, I wanted to be sure to let you know how much customers appreciate the attentive, efficient service that you provide.

After I decided to switch to your company I was truly impressed by the speed with which you helped me set up a new account and then arranged for a timely inspection.

As the propane in my tank dwindled and I faced the prospect of losing power, after being without electricity from Eversource since last Tuesday, New England Propane has been a huge help.

Thanks again so very much for your personalized, expert assistance. Your company should be very proud of the job you do!

R.K.- New Canaan, CT
I put the check in the mail yesterday and wanted to let you know how much we appreciate you all for your service, accessibility, and for being so accommodating and pleasant about it. We have been so happy with your company and all the people we've been in contact with for many years now. Thank you.

N.M. - Greenwich, CT
I would strongly recommend New England Propane to my friends and family. I have been a customer with two other propane companies in the Danbury area and can confidently say that NEP is head and shoulders above the rest. David Unschuld is great to work with; he always replied to my emails or phone calls very quickly and was even able to schedule a delivery for us on short notice. I currently use NEP to heat my pool, and will certainly be in contact with David when I convert my home heating system to propane.

Joseph M. – Redding CT
We hired New England Propane at our new home on the recommendation of our attorney who has used them for years. We hired them to replace an existing vendor from Norwalk that provided consistently awful service over many years. We couldn't be happier with our choice. The salesman returned my calls during evenings and on weekends. They set up temporary service in a matter of hours with professional and pleasant technicians. Full service was scheduled and the techs arrived on time. I also had a grill connected which went smoothly. I get invoices by email. I wish we had selected New England Propane many years ago.

Craig W. – Norwalk CT
I don't normally write reviews, but I felt compelled to mention that my experience as a customer with New England Propane has gone above and beyond my expectations. This past year they installed propane tanks for my generator, new gas stove and conversion from oil to a propane heating system. I worked with David Unschuld who is one of the most kind, honest and knowledgeable professionals in the business. The technicians were excellent and thorough. Overall, this company is very reliable and holds itself to a very high standard. I feel good about the work that they have done and highly recommend them.

Melissa W. – Redding CT
---
Post-Hurricane Sandy Testimonials
I would like to take the time this morning to compliment John Barry for outstanding work this weekend. My husband and I had arrived home from an event in New York City and found our home was filled with a gas smell. As you may recall Saturday night was extremely cold and damp. Mr. Barry drove down from Waterbury to Rowayton and arrived at our home around 10 PM, he then, checked the house, identified the leak at the gas tank and attached a new temporary line under light from a flashlight. He didn't leave our home until quite late around midnight.

We very much appreciate his service late on a very cold Saturday night and want to make you aware of his fine work.

M. B. – Rowayton, CT
Thanks so much for tending to my aged mother's needs in Rye New York during the most recent weather dislocations. I don't think she could have made it through without you.

B.A.C. - Washington D.C.
Thank you for your service. We certainly appreciated it. I know this is a very stressful time for everyone. Hopefully things will get back to normal soon.

B.L. - New Canaan CT
Thank you for getting my propane tank filled. Bless you all.

L.B. - Bedford Hills, NY
Thank you for keeping us warm!

M.W. - Greenwich CT
Just wanted to extend my great appreciation for having your truck driver deliver propane here on such a timely basis - and your driver couldn't have been more pleasant. Thanks so much!

N.M. - Greenwich, CT
Dear People of New England Propane,

You were kind, considerate and patient with us during the black days following hurricane Sandy, and we thank you for your generosity of spirit, especially for those who volunteered to come in on the weekends to answer the ever increasing flow (river) of messages. In a time of great demand and pressure you came through for us and kept my mother - who's past 102 years old - going strong; kept her warm despite the power outage.

With deep gratitude and appreciation to your staff and drivers who were doing those 14 hour shifts!

P.C. - Rye, NY
Many thanks for responding promptly to my S.O.S.

D.G. - Rye NY
---
I switched from oil to propane this summer. Your sales consultant David Unschuld helped me from start to finish, guiding me throughout the process, explaining as we progressed, as if we were related. He is an amazing and knowledgeable attribute to your company and above all else, he followed up after each step. The tank install and the delivery and follow-up by the team was among the best service experiences I have had.

M.K. - Bedford, NY
A special and heart warm thanks to all involved in getting our new heater in, in time for my granddaughter's 3rd year birthday party. We had over 60 people show up with almost 20 kids. Guess where they spent the day? Everyone was wonderful and the party wouldn't have been successful without the pool. I know you all went way out of the way to make that happen. If you ever need references, put my name on top of the list. Again thank you.

G. F. - Bethel CT.
Thank you for your prompt service and in prioritizing our delivery given the situation we were in.

N.B. - Bedford, NY
New England Propane is the most honest business I know.

Jim. H. - Rowayton, CT
Thank you for your great service during the power outage!

Donna C. - Easton, CT
Thank you for your prompt response to my family's need for reliable, prompt and courteous service. You should be proud of the level of professionalism your company provides.

Janet W. - West Harrison, NY
I just wanted to let you know that the delivery man who came to our home on March 16th (post-storm!) was WONDERFUL!!! He took the time to show me that our generator needed OIL, not propane.

But he provided both propane and great advice, not to mention patience, all within 7 minutes. THANK YOU!!!

Timothy L. - Darien, CT
The women and men I have spoken to on the phone were so kind and helpful. I was so impressed and I just want to thank you.

Betty S. - Greenwich, CT
I asked for a propane delivery Monday morning. This was during the power outage. I have a propane fired generator and I was concerned I would run out of fuel before power was restored. A family member is on oxygen therapy and electricity is necessary to power the equipment. The propane delivery came the same day at 10 p.m. Thank you so much for being so prompt. I have and I will recommend New England Propane to anyone needing your service. Also, your driver was very professional. Thank you again.

David V. - Stamford, CT
Thank you for the prompt and efficient installation of our new tank. Heather, it was a pleasure to meet you and I appreciate all your help. Keith: appreciate the neat and professional job you did at our home. It was good talking to you. Thanks again.

Cathy H. - Redding CT
Just a note to tell you how wonderful Susan in your office was to this old client of yours - she was so nice. I think she is a great ad for your company. We are happy we use New England Propane!

Joanne M. - Purchase NY