At New England Propane, Your Safety Is Our #1 Priority!
We always follow or exceed industry safety standards during deliveries, service and installations. Our staff receives continual training in the latest safety techniques. We perform GASCheck™ preventive maintenance on residential systems and annual equipment inspections for our commercial clients.
That's what we do to keep you safe! We'd also like to make you aware of the following safety tips from the Propane Education and Research Council (PERC) in the unlikely event of a problem with your propane system:
If You Suspect A Leak…
Propane's distinctively unpleasant smell (an added odorant that smells like rotten eggs or a skunk's spray) is just one of the safety features of your home's propane system. Gas leaks can be dangerous, and your nose can help identify them! If you smell a leak, take these steps:
Have everyone get outside and move away from the house.

Put out all smoking materials and open flames.

Do not operate lights, appliances or phones as those could create a spark or ignition source.

Turn off the main gas supply valve on your propane tank – but only if it's safe to do so.

To close the valve, turn it to the right, or clockwise.
If you have more than one tank, turn them all off.


Call 911 or New England Propane right away from a neighbor's house or another safe area. Do not return to your home or the affected area until a New England Propane technician, an emergency responder or a qualified professional says it's safe.

Before using any propane appliances, have your system tested New England Propane.

If You Suspect a Gas Leak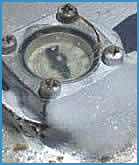 If you have any questions or concerns about the safety of your propane system, contact New England Propane right away by calling 203-792-7654.