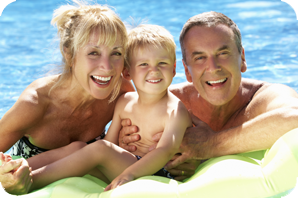 Now you can enjoy your pool before Memorial Day and after Labor Day, with expert pool heating from New England Propane. You'll also be able to control your water temperature depending on the outside temperature. Propane is a "green" and economical way to heat pools - and we have a heater for every size and depth, in-ground and above-ground.

Many commercial establishments - country clubs, swim clubs and yacht clubs - rely on us for our pool heating services. Our expert technicians perform routine and emergency service and can fine-tune water flow and temperature. They attend the various pool heater manufacturers' "pool schools" each spring to keep up with the latest advancements. We are also authorized by many pool manufacturers to perform warranty repair.


Why Propane For Pool Heating?
Propane or electric? It's a decision many pool owners in our area make. We're here to tell you why propane is better:
Propane is less expensive - Connecticut and New York have some of the highest electric rates in the country - and historically, electricity has cost significantly more.
Propane does the job better - Heat pumps require warm, humid weather to transfer that energy from the air to the pool. Cool days and cold nights in spring and early fall hamper the ability of a heat pump to warm your pool when you want it the most.
Propane is more comfortable - Heat pumps raise temperatures through long run cycles, meaning slow recovery times. A properly sized gas heater is able to get up to temperature much faster than a comparable heat pump.
Propane is "off the grid" - When you have an electric pool heat pump plus multiple air conditioners on (plus whatever other electric appliances are running), it puts a strain on your equipment ... and ups your electric bills.
For more on the benefits of propane, click here.

Our Pool Services
Spring Opening - The best time to call us to service your pool heater is early May to get an appointment at a time of your choosing. After your pool has been opened and your filter is running we will come out and service your pool heater to ensure it is up and running at peak efficiency. After servicing, it is important to cycle your pool heater at least twice a week so that it remains in good operating condition.
Fall Closing - We recommend that the burner trays of your pool heater be removed and stored in order to extend the longevity of your equipment. We also recommend that you have your underground tank filled to help prevent costly repairs, and dangerous situations, resulting from your tank 'floating' due to high water table conditions over the winter and early spring.
Schedule your Pool Service Right now
General Conditions And Customer's Responsibilities
Pool water should be brought up to normal operating level prior to our technician's arrival for the spring opening. Electricity should be made available prior to technician's arrival. Fuel for pool heaters should be turned on and available prior to technician's arrival. Any local permits are the customer's responsibility. Any pre-existing hydrostatic pressure problems should be brought to New England Propane's attention prior to any pool service.
[ back to top ]
What Size Pool Heater Do I Need?
The average pool heater will elevate your pool's temperature 1 – 1.5°F per hour. Let our experts evaluate your needs.

[ back to top ]
Installing Your Propane Pool Heater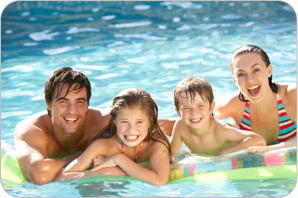 New England Propane offers several sizes of propane tanks for installation. Our inventory includes 120-gallon cylinders, and 250-gallon propane tanks for aboveground or underground installation. Propane tanks must be sized properly to ensure an adequate fuel supply for the application for which they will be used. We work with area homebuilders, contractors and pool installation companies to ensure that propane tanks are sized properly and that all propane system components are properly installed. In addition, we can lease propane tanks, provided you are in compliance with certain criteria.

Once we know the size propane tank you need, we will guide you through the installation process. We will:
Provide an estimate either by visiting your home or reviewing plans or blueprints
Schedule the installation date and arrive promptly on the date of delivery
Install the propane tank, regulators and service lines from the tank to the pool heater
Fill the tank with propane and pressurize the system
Inspect the system for leaks and make any necessary repairs
Cycle all appliances to ensure the propane gas system as a whole is operating properly
Educate you on safety and operational aspects of your propane gas system and propane appliances
[ back to top ]
Your Safety Is Our Priority!
Rest assured that the propane system installed for your pool heater will conform to the installation standards of NFPA 58 (LP Gas Code), and codes and standards required by the Local Authority Having Jurisdiction.
[ back to top ]
Enjoy Peace Of Mind With Remote Monitoring
Picture this: You dive in to your heated pool ... only to shudder from the cold! What happened? You check the tank gauge and - oh, no! - you've run out! This scenario would not occur if you had remote monitoring. Our intelligent monitoring system senses that the level of propane of your tank has gone below a preset threshold and transmits this information electronically to our office, so that we can schedule a delivery before you run critically low. No more checking your tank's percentage every day and no more run-outs! You can dive right in knowing the water will be nice and toasty!
[ back to top ]
Pool Heating FAQs
Are propane heaters efficient and how are they rated?
Propane heaters are rated in BTU output, and are tested by government standards. Their efficiency ranges from 60 percent to over 80 percent. Efficiency may decrease over a period of time due to scaling in the burner or heat exchanger.

How does a propane swimming pool heater work? Propane heaters use propane fuel, which is stored in a propane tank on your property. The propane gas is burned in a combustion chamber where the heat is transferred to the pool water.
What size propane heater will I need?
Each pool and home is unique. The size of the heater is based on several factors, including: the size and shape of the pool; pool shading (i.e. trees, screen enclosure); geographic location; swimming season and pool temperature desired; and wind conditions. The size of the heater will determine the temperature, swimming season, and length of time to heat the pool. It is very important to properly size the heater for good performance - and the experts at New England Propane are here to help!
[ back to top ]